4 Days Cuba from Charleston, SC
on Carnival Sunshine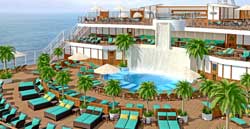 Everything the sunlight touches on Carnival Sunshine has been doused with an extra dose of fun. There's plenty to find atop this ship, where you can spend your days being kissed by the warm rays of the sun. Visit the biggest Serenity area ever, featuring three decks, plenty of recliners... and even a waterfall. When you're on your Carnival Sunshine cruise, step out of the sun and try out some shade (and it's some pretty cool shade, at that). The first thing you'll see is the Sunshine Atrium...
...
About Carnival Cruise Lines

If you're thinking of cruising, there's a very good chance you're considering a Carnival cruise. Growing since our founding in 1972, Carnival Cruise Line — "The World's Most Popular Cruise Line®" — now carries millions of passengers every year. Our newest ship is Carnival Horizon, which debuted in April, and we're introducing the new Carnival Panorama and the totally transformed Carnival Sunrise setting sail in 2019.
In a nutshell… we're all about fun vacations at sea and ashore! A Ca
...